For information about our taxi service and recruiting and any comment or question about our website, please contact with the following phone number or inquiry form.We welcome your contact.


Change or cancellation of taxi/limousine reserve
Inquiry about billing such as taxi ticket, etc.
Inquiry about lost goods
Inquiry about recruiting
Inquiry about our website
Inquiry about any other service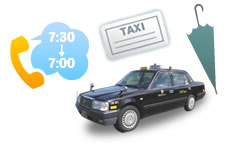 Inquiry by phone
For inquiry by phone, call the following phone number.Please click either of the buttons below, Narita City area or Narita Airport area, depending on the area where you need taxi service.
Phone number for taxi service in Narita City area.


Phone number for taxi service in Narita Airport area



For online inquiry, submit the following form after filling out all the necessary information.
Our staff is ready to respond.
If you want taxi/limousine reserve, please request in taxi reserve page.
Required items